Camping in Durango, Colorado


Camping in Durango, Colorado The Right Way!
Camping in Durango, Colorado, can be quite the experience. There are many different campgrounds to choose from and plenty of hiking. However, when it comes to hiking, you need to make sure that you have the right gear. Having the right gear can make your camping experience more enjoyable but also help you take in the beautiful wildlife in Durango, Colorado.
When you stay in Durango, Colorado, you have access to some of the best national parks in the country. You can quickly get to Mesa Verde National Park, Four Corners National Monument, Chimney Rock National Monument, or Hovenweep National Monuments. There are also several different campgrounds that you can choose from. Each of these campgrounds gets over four stars: United Campgrounds of Durango, Lightner Creek Campgrounds and Cabins, and Junction Creek Campground. Now that we have established where you can stay and what you can see when you visit Durango, Colorado, it is important to make sure you have the right gear.
The Gear You Need for Durango, Colorado Camping
When it comes to getting the right gear, you should consider camping gear rentals. Depending on how passionate you are about camping, camping gear rentals can make it easy for you to camp. You do not have to take the time looking for and storing all the camping gear at home. Instead, you can rent camping gear and have it for your stay and then just return the gear when you are finished.
When you rent camping gear, you can rent all the camping gear you will need at one time for your trip. You can rent a tent if you don't have one, or you can rent the gear you may not have, such as camping stoves, poles, or GPS. One crucial piece of camping gear that you can also rent is a backpack.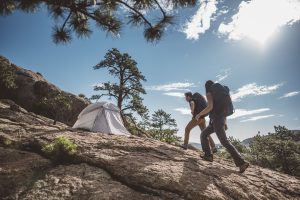 Backpacking can be a fun way for anyone to explore Durango, Colorado. You just throw everything you need in your backpack and go. You can experience all that the Durango, Colorado nature has for you while you explore anywhere you want. If you do not have a backpack, you can also rent one. Finding the right backpack for you when you are backpacking is important because you need to make sure it is comfortable and will fit everything you need. Renting a backpack allows you to get a feel for the backpack without having to make a long-term commitment.
When you experience nature in Durango, Colorado, you will need to make sure you have the gear that allows you to experience it. Renting your camping gear can make any camping or backpacking experience more enjoyable.
Related posts
To reach the beautiful scenery of Emerald Lake Colorado, you will need your hiking boots! This article reviews what you need to know about camping in Emerald Lake. You will know how to plan your visit to one of the country's most beautiful forests. The lake is located 10 miles from the Pine River Trailhead…

With summer quickly approaching, Colorado camping adventures are just around the corner. To experience Colorado off the grid in the great outdoors, you will need a variety of camping equipment. To fully enjoy your experience, it is worth having all the equipment you need that will make your trip an unforgettable one. Check Outside provides…