Rockcastle ProAm 3 Gun Match
Rockcastle Shooting Center, "America's Ultimate Shooting Sports Resort" is proud to announce the 8th Annual Rockcastle Pro Am 3 Gun Championship. The match will take place on August 17– 19, 2018, at the Rockcastle Shooting Center at Park Mammoth Resort in Park City, Kentucky.
The Rockcastle Pro Am 3 Gun Championship is the "Next Level" of multi-gun competition, with the largest field of competitors in the sport, and two epic prize tables. The Pro Am is basically two competitions going on at the same time. In 2016, more than 480 shooters competed! More than 200 Pro shooters will compete over two and one half days running 8 challenging, technical, and fun stages designed by former and current 3 Gun Champions. More than 200 Amateurs will compete for two days on a separate course of 7 stages also designed by the 3 Gun greats, tailored especially for amateur and celebrity competitors. Each division will have its own prize table. Pro prize table = decending order of finish, Am prize table = random draw. – READ MORE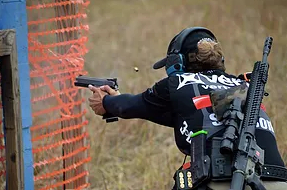 FACILITY:
The Rockcastle Shooting Center is a 2000 acre shooting resort located in Park City, Kentucky.  Rockcastle features a mix of over 20 shooting ranges that include, long range, rifle and pistol bays, sporting clays, 3D archery, and almost any other trigger pulling your imagination can create.  There is a 100 room hotel on-site, along with The Lookout Restaurant, The Cave Valley WInery (Home of Winchester WInes), and the 18-hole Cave Valley Golf Club.  Bring your guns, bring your clubs, your adventure begins here! – READ MORE
PROAM STAFF:

The Rockcastle Pro Am 3 Gun Championship is organized and produced by the Rockcastle Shooting Center Owners, Nick and Nate Noble, and the great staff of the Rockcastle Shooting Center.
The Rockcastle Pro Am 3 Gun Championship Match Director position has been filled by our good friend Mike Sexton, and we are excited to see what Mike will bring to the match.
Linda Chico will be doing her magic as Chief Statistician, and handling all registration, squadding, and scoring.
Related posts
Try Before You Buy 3 Gun Gear          So, you're getting into 3 gun? I'd have to say that you're in for an exciting adventure. 3 Gun in a high paced, action packed outdoor adventure sport that is sure to get any one hooked once they try it. The best advice any…

Join Us at the 20th Annual San Juan Brewfest – Saturday August 25, 2018. Tickets on sale NOW Held at Buckley Park in Historic Downtown Durango! A full day of fun with 50 breweries, 100+ beers, and great live music. Benefiting United Way of Southwest Colorado The San Juan Brewfest is an adult only event, no one under 21…